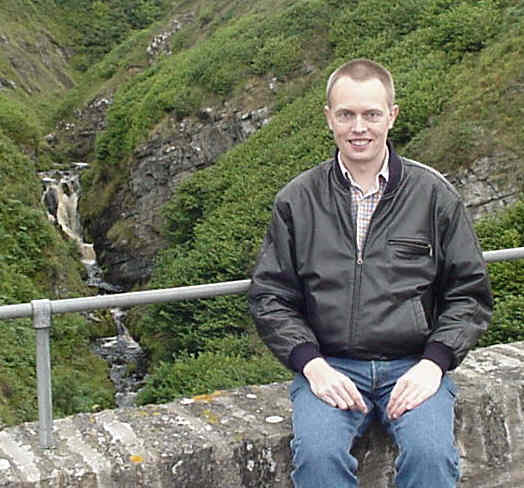 Timeslip
When I was about eight years old I was fascinated by the children's television programme Timeslip and it may well have influenced me to have an interest in science. The story is based around two children who discover a time barrier near a disused Ministry of Defence site through which they can pass to adventures in the past and the future. Although aimed at children the programme covers subjects such as human cryogenics and cloning.
Recently the four series have become available on DVD and so I've been able to watch all the episodes again after a gap of over thirty years!
I came across a scrap book I put together at the time (around 1970) so I decided to scan some of the cuttings which may be of interest to other fans of Timeslip and present them on this page.
Click here to see a page showing more listings from the TV Times magazine.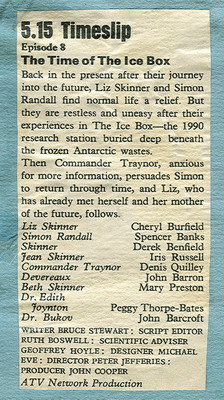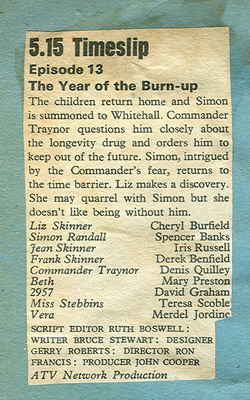 The TV Times included a picture from Episode 16 (Year of the Burn-up)
My father took some pictures with his camera from the TV when Timeslip was originally broadcast (no video recorder then!) and printed them for me to put in my scrap book. You can see the reflections from the living room window on the TV screen.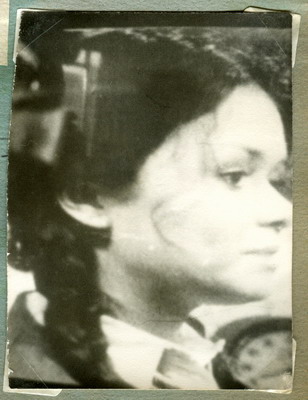 For me the most memorable parts of Timeslip are the outdoor shots when Liz and Simon are looking for the hole in the barrier to pass through to a different time. Recently I had the opportunity to visit location where the filming took place and took pictures of me passing through the time barrier!
Sadly the fence posts which defined the location of the time barrier are in poor condition compared to when the original filming took place but it was still interesting to see the place.